Ashrams
Abhimanyu works with his father in their own ashrams which his father built up over many years. The ashrams are open for all people. On visitor's days hundreds of people – from all religions and cultural backgrounds – come flowing into the ashram to receive blessing and healing.
In the Indian languages the word ashram describes a yoga and meditation center similar to a monastery. The word Guru refers to a spiritual teacher or leader of an ashram. People come to an ashram to contemplate, to practice yoga, to meditate or to simply search for their life's meaning.
More than 25 years ago the Indian government handed land near Udaipur to Guruji Mohan so that he could ground an ashram there – appreciating his success and loving care.
The ashrams are situated at beautiful places and are located in the states of Rajastan and Madhya Pradesh. Visitor's days and lectures are held regularly and attract hundreds of people. They receive help from Guruji and Abhimanyu without any payment.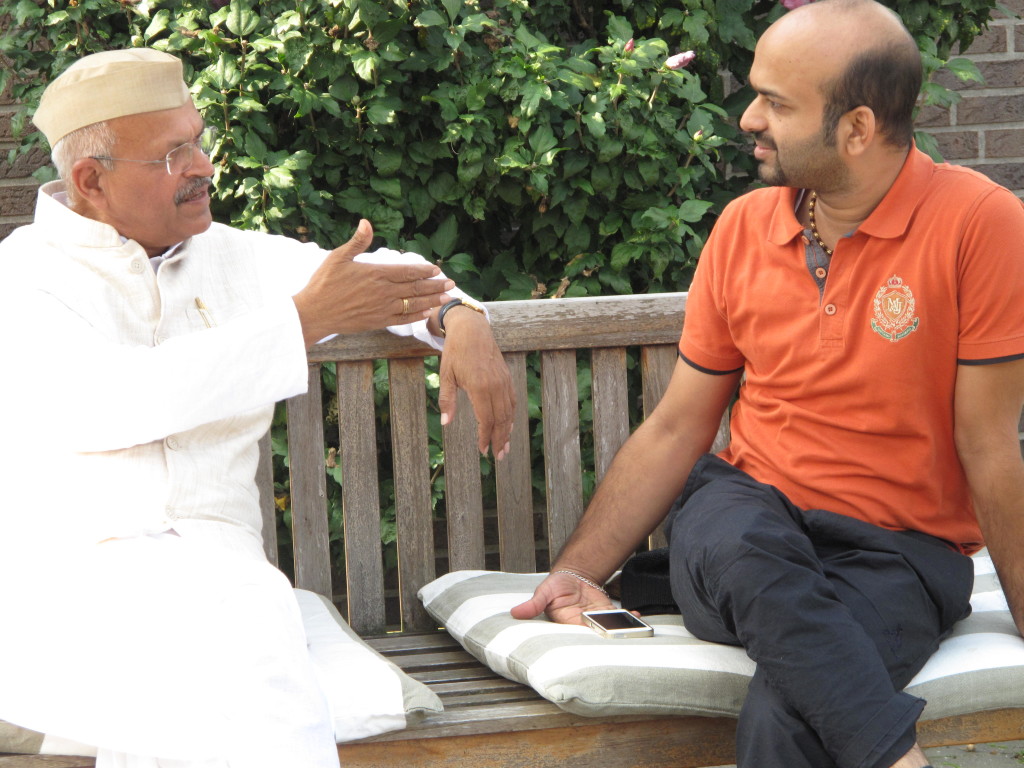 The ashrams are situated at the following beautiful places:
1) Abhimayu Dhyan yoga Kendra Nandeshwar Dhaam / close to UDAIPUR (Raj).
approx. 20 km southwest from Udaipur, southwest from Nai
2) Abhimnyu Dhyan yoga Kendra / BANSWARA (Raj).
approx. 165 km southeast from Udaipur
3) Shree Abhimanyu / PUSHKAR (Raj).
between Ajmer and Pushkar in Leela Sevri
4) Shree Abhimanyu / ITARSI (MP)
approx. 30 km to the south of Itarsi an the highway to Mumbai
5) Shree Abhimanyu/UJJAIN (MP)
close to the village Kagdi Karadia at the Shipra River
Camps and meditation events in India for Europeans
All through the year Abhimanyu and Guruji offer talks, seminars and consciousness camps for Indians and Europeans. The talks for Europeans are currently held from December to March and are delivered on English. Usually the talks are first held in Udaipur/Nandeshwar Dhaam and thereafter in Pushkar. The camps on themes such as conciousness, love, freedom last about 5 days and include various meditative exercises for contemplation as well as numerous opportunities to ask questions.
Overnight stays
Some participants can spend the night in guest-rooms in the ashrams after arrangement. There are also nice small hotels of all categories in the nearby cities of Udaipur and Pushkar in which one can spend the night.
How to get to Udaipur
With the airplane to Mumbai or Delhi and further with a domestic flight to Udaipur. From the airport of Udaipur approx. 60 minutes to the Ashram in Nandeshwar. From the airports it is advisable to take pre-paid taxis, which you can book at air-port in a special counter at fixed price.
How to get to Pushkar
From Delhi it is possible to tavel to Pushkar by taxi in 7-8 hours. There are trains from Delhi to Pushkar too, but in India it is necessary to buy the tickets one or two days before you want to go. This is possible by internet booking. Domestic flights from Delhi to Jaipur are also available. The taxi ride from Jaipur airport to Pushkar takes about 3 hours.